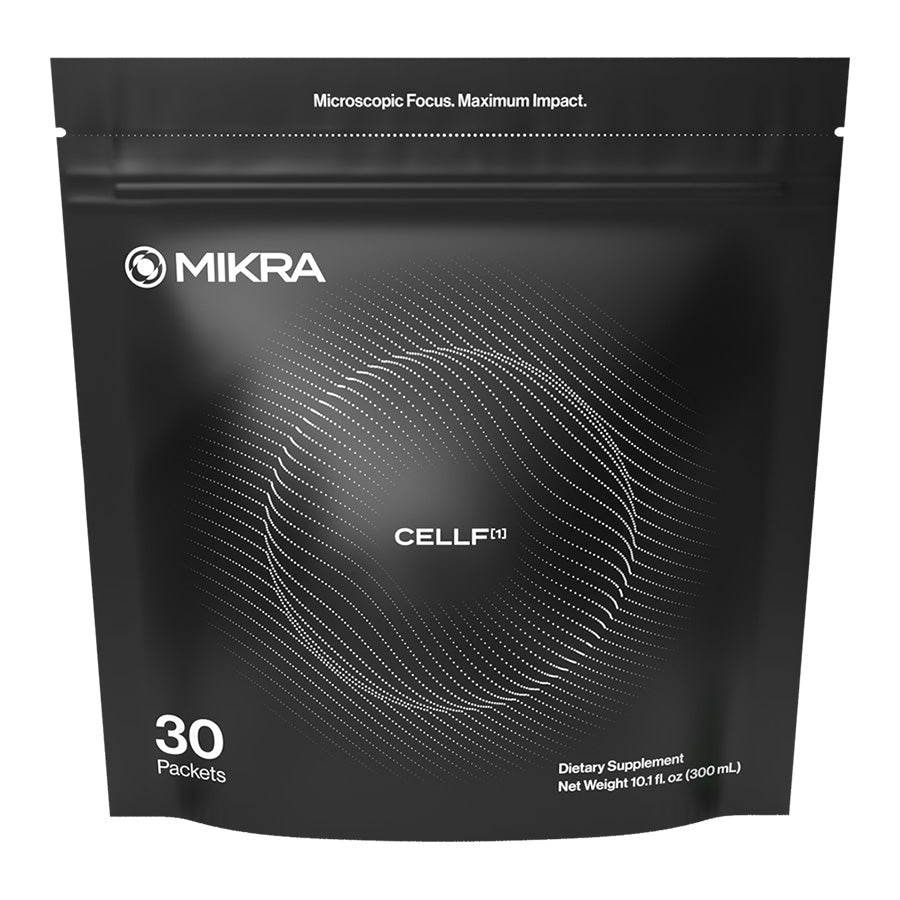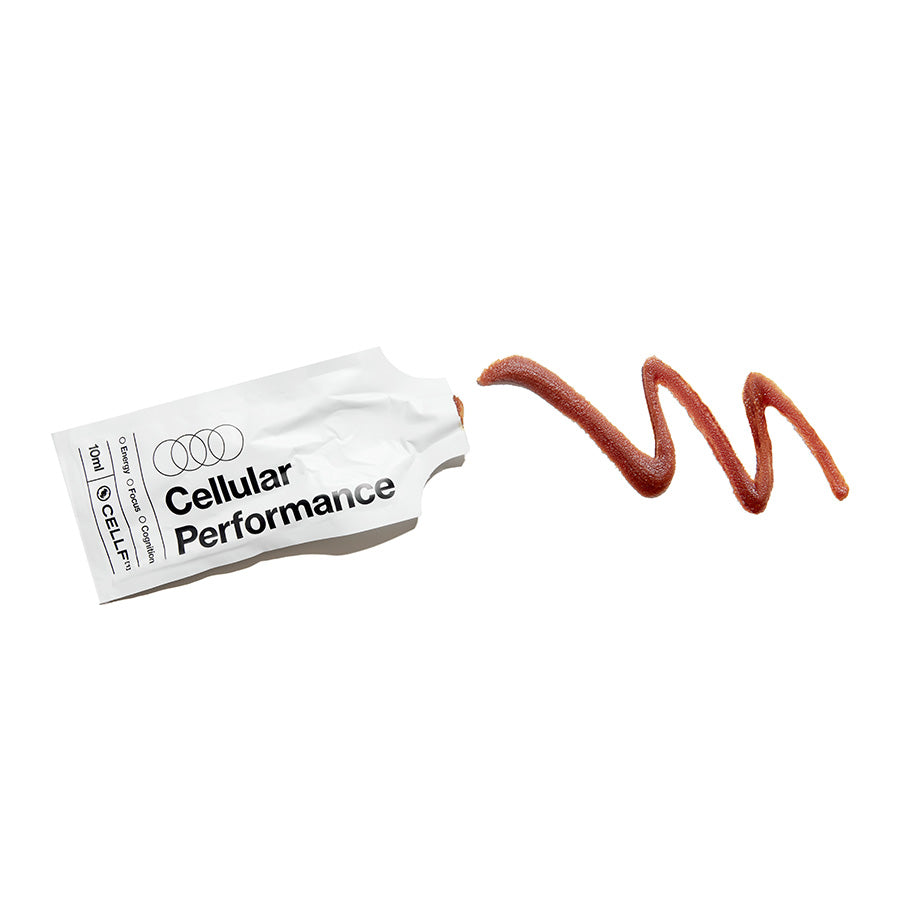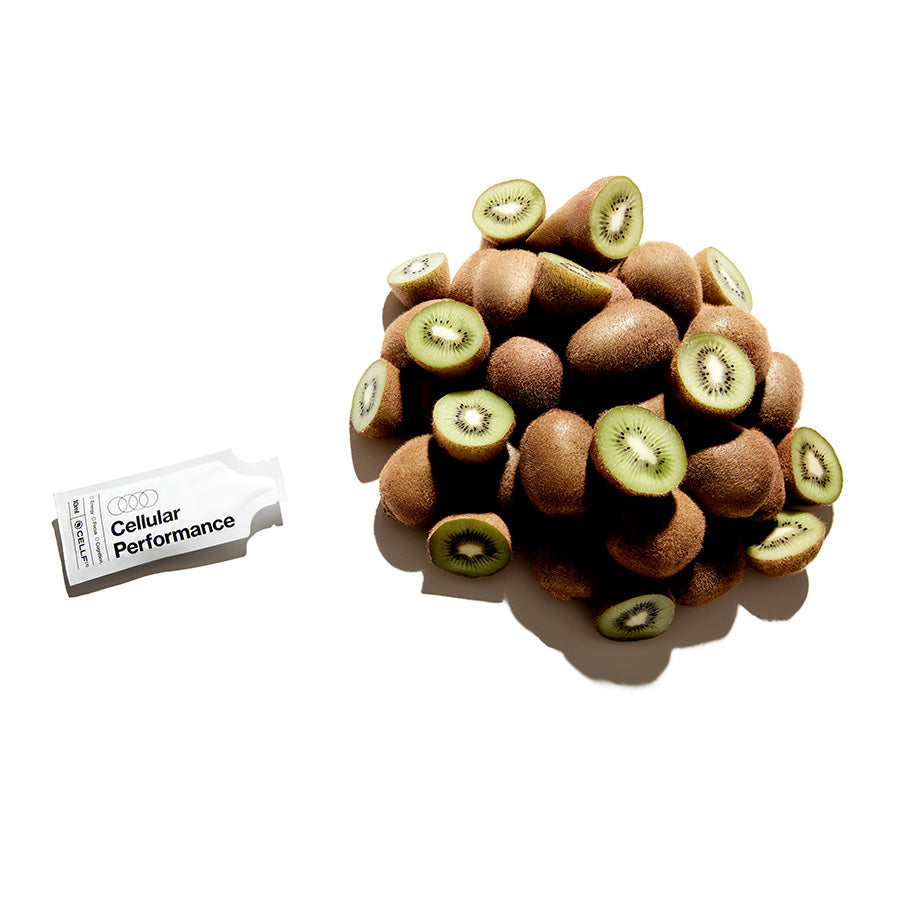 CELLF™
Rebuild and protect your cellular health
Cellular health nutraceutical gel. Engineered with a natural biological delivery system to pass through your gastric environment unchanged and deliver directly to your cells.
Formulated with bioactive compounds clinically studied in more than 145 human studies to positively impact your brain, heart, skin and muscular systems.
Overview
Is CELLF for me?
How to use
CELLF is a clinically validated formula proven to boost energy and focus on a cellular level, while protecting against the negative effects of oxidative stress. Our meticulously researched superblend formula is designed to add healthy years to your life, increasing your healthspan so you can feel better, longer.
When your cells are stressed, it can produce an undesirable domino effect throughout your body. CELLF is designed specifically for those who find themselves needing an extra boost in focus, energy and exercise recovery, especially after age 30.
Adults should take one packet (10 ml) daily with* or immediately following a meal, preferably in the morning. Due to CELLF's nootropic properties and natural energizing effect, we do not recommend consumption in the evening.

*Do not mix, blend or add CELLF to hot beverages or food, as this may affect absorption and efficacy.
Shop CELLF™
$98.00
Regular price
$98.00
The modern multivitamin for your cells.
You are made up of more than 37 trillion cells, all with different functions and lifespans. When you focus on their health and give them the support they need, it can cascade into truly wonderful health benefits across all of your biological systems.
Engineered with bioactive compounds that support:
Brain & nervous system

Acts as a neuroprotectant

---

Contributes to optimal neurofunction over time

---

Enhances short-term memory and attention

---
Performance & recovery

Stronger output during aerobic exercise

---

Reduction in exercise-induced muscle fatigue during and after exercise

---

General improvement in physical performance

---
Heart & circulatory health

Supports healthy heart & endothelial function

---

Promotes healthy blood pressure & LDL cholesterol levels

---

May enhance cardiac ATP production 

---

Protects heart tissues from oxidative stress

---
Metabolic system

Contributes to healthy aerobic metabolism

---

Promotes healthy liver detoxification

---

Supports the metabolism of fat in the liver

---

Promotes metabolic efficiency through the optimization of cellular function

---
Inflammation & immune response

Promotes a reduction in inflammatory markers IL-6 & IL-1

---

Enhances immune cell response to inflammatory signaling

---

Preventative inflammatory support

---
Multi-system support

Promotes an improvement in sleep quality over a 6-week period

---

An increase in sustainable, natural energy, alertness and activity levels 

---

Reduction of fatigue and/or general tiredness 

---
Cellular function & healthy aging

Protection from oxidative cell damage due to both internal and external factors

---

Contributes to the production of cellular energy

---

Inhibits the overaccumulation of reactive oxygen species and other free radicals

---

Increases the efficiency of mitochondrial ATP production (energy) and cellular respiration

---

Promotes mitochondrial biogenesis and increases mitochondrial efficiency

---
It's what's inside that counts
Your cells deserve the best; an extensively researched,
technology-driven formula engineered to deliver impactful results.
We mimic a naturally occurring biological process to ensure safe transfer through your digestive system and direct cellular delivery.
"Biomimicry" is a relatively new technology. With CELLF, we mimic a biological process called "receptor mediated endocytosis," which enables your cells to "eat" and absorb the compounds directly into their intracellular complex.
We are pushing biosciences beyond the expected and comfortable.
We believe it's possible to add more valuable, enjoyable life to your years through rebuilding and protecting your cellular health.
| | CELLF™ | Traditional Supplements | Green Powders/ Multivitamins |
| --- | --- | --- | --- |
| Supports & defends multiple biological systems (brain, heart, skin, digestive, muscular) by focusing on the health of your cellular system | | | |
| Formulation backed by 145+ human clinical studies | | Rare | Unknown |
| Direct cellular delivery ("biomimicry") in the jejunum (2nd part of the small intestine) | | | |
| Supports cellular energy systems | | Rare | |
| Survival through digestion | | Rare | |
| Evidence-backed dosage | | Rare | Rare |
| No skip-lot testing and heavy metal, allergen and microbial 3rd party testing at accredited laboratories | | Rare | Rare |
| Heat tested to ensure stability through shipping conditions | | | Unknown |
| Undergoing multiple clinical study tracks to determine effectiveness in preventing certain chronic conditions | | | Unknown |
You've got questions? We've got answers.
What are CELLF's ingredients?
CELLF by Mikra contains the following ingredients:
- Glutathione
- CoQ10
- Lactoferrin
- PQQ

Other ingredients: Natural almond butter, glycerin, medium chain triglycerides (MCT oil), oleic acid (from olive oil), phosphatidylcholine, natural clove oil, orange oil, cinnamon oil, vitamin E (as D alpha tocopherol) and vanilla bean extract

Also contains: Milk, tree nuts (almond)
What does CELLF taste like?
CELLF contains natural flavoring elements like pure vanilla bean extract and orange, clove, and cinnamon oils. However, we're going to level with you. It isn't designed to taste good. We didn't set out to make the best tasting cupcake frosting in the world; we set out to make the most potent and bioavailable supplement to support your fundamental cellular health. Here's why that impacts taste:

Treat your cells: We use meticulously sourced, 100% natural ingredients with no added sugar or excess fillers. CELLF may be nourishment for your cells, but it isn't food.
Potency: The precise dosage of each key ingredient in CELLF is backed by extensive scientific evidence and was selected in order to deliver maximum results at safe levels. The potency and volume of the star ingredients do impact flavor. As we evolve and improve our formula, taste will remain a primary focus but never in sacrifice of the level of efficacy.
Effect: Why liquid gel, you ask? When certain micronutrients (like glutathione) are consumed orally, they end up being destroyed by your gastric environment before your body has the chance to use them properly. Encapsulating key nutrients within a liposome while also paired with transferrin glycoprotein ensures your supplement not only survives digestion to reach its destination, but can also be fully absorbed and delivered to your cells. The chosen form factor is ideal for this technology specifically.
How does CELLF work?
CELLF is an intensive superblend formula that contains clinically tested ingredients and a 2-stage delivery mechanism to boost energy and focus on a cellular level. †

When consumed, CELLF counteracts the effects of stress and damage on your internal cellular system and brings your body back to homeostasis so you can get back to being your best self, starting from the inside out.
How will CELLF help me?
CELLF supports an increase in energy and focus on a cellular level, a boost in cognition and memory recall and promotes the reduction of chronic inflammation at the source.†
How does manufacturing in an oxygen deprived environment benefit me?
Being locally manufactured in an oxygen deprived environment helps ensure maximum efficacy of ingredients, providing you an effective, potent formula.
When can I expect to feel the effects of CELLF?
CELLF[1] is all about consistency. Everyone's body is different, but many people feel results in as a little as 24-48 hours depending on the state of your cellular system. Some people feel dramatic effects immediately, while others feel them slower; potentially not even realizing it's working until they stop and think about it. As long as you continue with your daily intake, those bioactive compounds are doing their work to boost and fortify your cells to enhance your health.
Does CELLF contain any allergens?
CELLF contains dairy and almond tree nut butter. However, CELLF is non-GMO, and egg, corn, gluten and cruelty free.
Where is CELLF made?
CELLF by Mikra is made in California, USA.
Why isn't CELLF a capsule?
The combination of our iron-binding glycoprotein (lactoferrin) with a liposomal barrier provides impenetrable protection to get CELLF through digestion intact and delivered directly to your jejunum (mid-small intestine) to be distributed to your blood plasma and concurrently, your cells. At this time, the chosen form factor is ideal for this technology.
I have more questions.
We welcome all questions! You can reach out to us at hello@wearemikra.com. We look forward to hearing from you!
Customer Reviews
Total 5 star reviews: 258
Total 4 star reviews: 45
Total 3 star reviews: 9
Total 2 star reviews: 1
Total 1 star reviews: 0
97%
would recommend these products
Improved focus
Rated 4.3 on a scale of 1 to 5
Energy boost
Rated 4.4 on a scale of 1 to 5
Made me feel healthier
Rated 4.4 on a scale of 1 to 5
Product Standouts

Boosted Energy,

Boosted Physical Recovery,

Would Order Again,

Reduced Brain Fog,

Improved Sleep Quality

Has CELLF changed my life? Absolutely! Will it change yours? That's up to you.

Hi, 35 year old male here. Rather than tell a story about how CELLF changed my life for the better and can probably do the same for you I'm just going to list out everything I was dealing with before taking CELLF and how I'm feeling now after 4 months of consistent use. If you're deciding whether or not this product is worth the investment, it might be worth your time to read my take on it.

Before CELLF: Brain fog, general fatigue/low energy throughout day, difficulty getting out of bed in the morning, lack of motivation, depressed, unconfident, difficulty getting good sleep, feeling old, generally just feeling unwell.

After CELLF: Sharper mind (processing information and thoughts faster), renewed sense of energy, I'm working out harder and longer and still have energy afterwards, feel motivated to go after what I want in life, my confidence is back, my sleep is great (I spring out of bed in the morning now), overall feeling healthy and strong, no longer depressed, and I'm playing finally feeling good enough to play hockey again for the first time in 12 years! Not only that but I stay out on the rink and play just as long as the kids in their late teens and early 20s.

So in short, CELLF has dramatically improved my overall sense of well being and given me back a zest for life. Will it do the same for you? I would say without a doubt yes - but with a caveat. I didn't just take CELLF hoping it was a magic pill that would do all of the work for me while I continued to just…

Improved focus

Rated 5.0 on a scale of 1 to 5

Energy boost

Rated 5.0 on a scale of 1 to 5

Made me feel healthier

Rated 5.0 on a scale of 1 to 5

Reviewing

CELLF™ 3 month Subscription

Product Standouts

Boosted Energy,

Removed Chronic Inflammation,

Reduced Brain Fog,

Boosted Physical Recovery,

Would Order Again

Awesome product…

Three weeks in and I feel great. So much energy, less brain fog, and my chronic inflammation has disappeared. Writing this review just as I return from 2 hours at the gym. While I was concerned about the taste from the reviews I actually like the taste and can always tell when I forget my morning dose by the time mid-afternoon rolls around.

Improved focus

Rated 4.0 on a scale of 1 to 5

Energy boost

Rated 5.0 on a scale of 1 to 5

Made me feel healthier

Rated 5.0 on a scale of 1 to 5

Product Standouts

Boosted Energy,

Reduced Brain Fog,

Would Order Again,

Improved Sleep Quality,

Boosted Physical Recovery

CELLF[1] - Major Improvements from last version

Today I had the pleasure of trying the new CELLF. I have tried the first version of CELLF and my two gripes were the bad taste and the packaging that could cut the corner of your mouth. They have resolved both issues. Right off the bat you can tell there has been major changes made to the packaging. The new packaging is much more sleek and can be consumed with 1 hand. It came with instructions on the back. Literally just bend and the packet you can now consume the substance from the slit in the back. The taste for this new version is phenomenal. It actually tastes good. Very well done Mikra.

Improved focus

Rated 5.0 on a scale of 1 to 5

Energy boost

Rated 5.0 on a scale of 1 to 5

Made me feel healthier

Rated 5.0 on a scale of 1 to 5

Product Standouts

Boosted Energy,

Reduced Brain Fog,

Would Order Again

High blood pressure gone

I had to stop my pills for high blood pressure after 2 months so I save money $$, I had to show pics to my doctor and we could not explained, I had continue same routine but added CELLF Mikra, also I am 60 and my brain work so much better since things do not feel such an effort for me anymore so I do feel better and stronger legs and I do train more recently since on vacation on the beach in FL.... thks to Mikra for my new life ... I can also add that I do stop or delay for any reason CELLF , I still wake up with same benefit and better and do not rely on a morning pills since I feel I recovered and this stay.... M.M. Canada 60 yrs old

Improved focus

Rated 5.0 on a scale of 1 to 5

Energy boost

Rated 5.0 on a scale of 1 to 5

Made me feel healthier

Rated 5.0 on a scale of 1 to 5

Product Standouts

Boosted Energy,

Removed Chronic Inflammation,

Improved Sleep Quality,

Reduced Brain Fog,

Boosted Physical Recovery

Renewed focus

I love everything about this product. Including the taste. Looking forward to Mikras other products in assisting me in living a healthier life.

Improved focus

Rated 5.0 on a scale of 1 to 5

Energy boost

Rated 5.0 on a scale of 1 to 5

Made me feel healthier

Rated 5.0 on a scale of 1 to 5
Reviews Loaded
Reviews Added