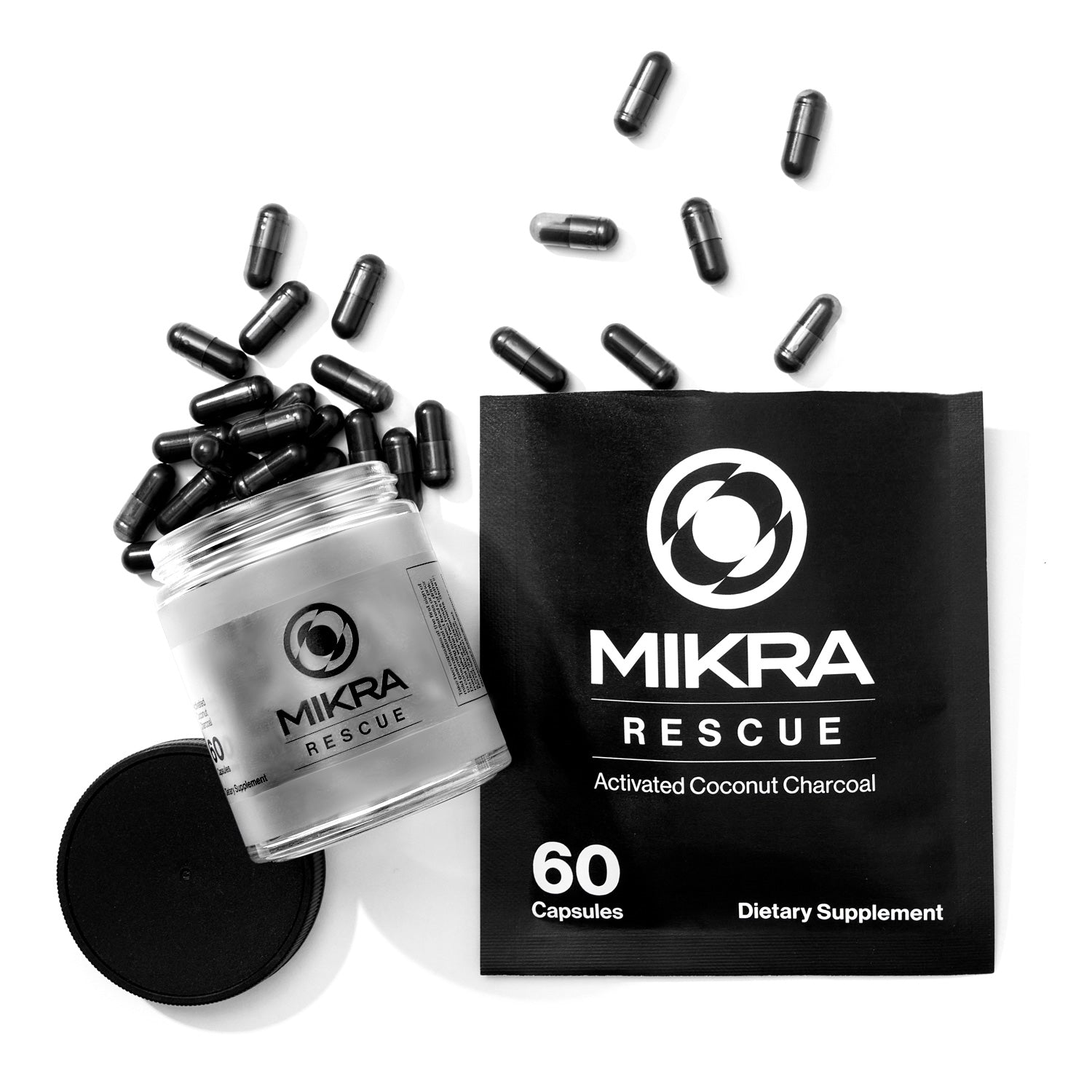 RESCUE
Activated Coconut Charcoal Digestive Aid
This 100% naturally-derived coconut charcoal capsule helps relieve gas and other undesirable symptoms of gastrointestinal discomfort, fast.
Supports powerful, acute detoxification to help calm your stomach and relieve pressure and bloating. Perfect for relief after a big night out, travel and occasions where you just want to indulge in your favorite food and drinks.
Overview
Important info
How to use
RESCUE was designed with your digestive support in mind – created with only pure, fine-milled activated coconut charcoal powder with no fillers or additives.
This 100% vegan supplement reinforces your digestive system with bloat, pressure and flatulence relief, overindulgence support and acute detoxification.
RESCUE is safe for human, adult consumption and is not intended for children.
Do not take RESCUE within two hours of other medications or supplements, as it could reduce their effectiveness (this includes oral contraceptives).
Seek medical advice from your healthcare provider before consuming if you are taking routine over-the-counter or prescription medications or you are pregnant and/or breastfeeding.
Take two capsules at the first sign of gastrointestinal discomfort, or prior to consuming your favorite risky food and drink choices. Only take as needed.
Shop RESCUE
$18.00
Regular price
$18.00
For those moments your gut needs a little extra help, RESCUE offers:
For those moments your gut needs a little extra help, RESCUE offers:
Powerful, acute detoxification
Intestinal gas and flatulence relief
Pressure and bloat relief
As opposed to "absorbing" toxins, our activated charcoal stimulates a reaction known as adsorption. Toxins and chemicals stick to our activated charcoal's porous surface and are eliminated through your body's natural digestive and metabolic processes safely and effectively.
Enjoy your favorite indulgences, without paying for it later.
RESCUE offers digestive support for enjoying your favorite guilty pleasures, including:
Fried foods
Citrus fruits
Artificial sweeteners
Dairy products
Spicy foods
High fiber
You've got questions? We've got answers.
How does activated charcoal work?
Put simply, it traps toxins and chemicals within its pores. As opposed to "absorbing" them, activated charcoal stimulates a reaction known as adsorption. Adsorption is the chemical process of elements binding to a surface (i.e. charcoal's very porous surface). The toxins and chemicals stick to this surface and are eliminated safely through your body's natural digestive and metabolic processes.
What does "activated" mean?
Activated simply means the charcoal is porous, which is an essential feature in order for charcoal to work properly to bind and eliminate toxins in the gastrointestinal tract. To activate charcoal, the raw material is heated to a very high temperature, creating the necessary pores.
How does RESCUE benefit your cellular health?
A buildup of undesirable toxins and chemicals in your body can lead to cellular dysfunction and oxidative stress over time. Charcoal supports your body's detoxification process, which has a cascading effect on your overall cellular health.
Are there any other uses for activated charcoal?
Medical professionals have trusted activated charcoal for years in treatment of acute episodes of poisoning and drug-related incidents. We cannot recommend this as an over-the-counter use for our product, but there is a reason why activated charcoal is trusted in trauma centers around the world: it works.
It is often used in products related to teeth whitening and stain removal, though science is flimsy on this use case. Activated charcoal is also often used as a novelty food additive to safely color food or drink (see: "goth latte" or charcoal ice cream). There is no taste or texture when mixed properly and these items usually only contain trace amounts of activated charcoal to achieve this aesthetic effect.
When should you take it?
Take two capsules with your risky* food or drink choices, or upon the first sign of acute, mild gastrointestinal discomfort.
*Risky refers to rich, "naughty" or fried foods, alcoholic beverages and other drinks and foods that may contain ingredients known to cause you digestive upset.
Who can take activated charcoal?
The recommended dosage of RESCUE is safe for adult human consumption, however…
Children should not consume this product without explicit permission from their healthcare provider.
People who are pregnant or breastfeeding should consult with their healthcare provider before consuming.
People who are taking routine over-the-counter or prescription medication (including oral contraceptives like birth control) for treatment of other health conditions should consult with their healthcare provider before consuming.
How often should I take this product?
Take only as needed, no more than 12 capsules in a 24-hour period. If you find you need this product more than three days in a row, please discontinue use and visit your healthcare provider to discuss your symptoms and further treatment options.
Is this product for daily use, like a vitamin?
No. Only take activated charcoal as needed.
Are the capsules vegetarian or vegan?
The capsules used are non-GMO vegetable cellulose, a plant-based fiber safe for both vegetarians and vegans to consume. In addition, the magnesium stearate used is derived from a vegetable source.
What is the purpose of magnesium stearate in this supplement?
Magnesium stearate is often used as a "flow agent," which means it is added to supplements in microscopic doses to prevent ingredients from sticking together (i.e. caking) and to prevent ingredients from sticking to equipment during the production process.
It is also a known excipient, which means it can enhance the effectiveness of the active ingredients, increasing bioavailability.
How does activated charcoal differ from regular charcoal?
Regular charcoal is not heated to as high of temperature as activated charcoal, which means it is not nearly as porous and lacks a comparable surface area (more surface area=the better it can trap those toxins). In addition, activated charcoal is far higher in purity, meaning regular charcoal may contain more chemicals, debris, binders or additives not suitable for food grade consumption.
What is the material of the bottle RESCUE comes in?
We use a recyclable, clear frosted glass jar with a recyclable mixed rigid plastic lid.
How is Mikra working towards sustainability with this product?
In addition to the above, following a customer's initial purchase of RESCUE, low-waste refills using biofilm packaging will be used for all 2nd month onward subscription fulfillment.
I have more questions.
We welcome all questions! You can reach out to us at hello@wearemikra.com. We look forward to hearing from you!
Customer Reviews
Total 5 star reviews: 10
Total 4 star reviews: 2
Total 3 star reviews: 0
Total 2 star reviews: 0
Total 1 star reviews: 0
100%
would recommend these products
Reduced bloating
Rated 5.0 on a scale of 1 to 5
Made me feel better
Rated 4.8 on a scale of 1 to 5
Reduced gas
Rated 4.9 on a scale of 1 to 5
Product Standouts

Reduced flatulence and gas,

Reduced bloating,

Nice packaging,

Easy to Use,

Value for Money

Bloated need relief

Effective - easy to take -

Has relieved bloating -

Reduced bloating

Rated 5.0 on a scale of 1 to 5

Made me feel better

Rated 5.0 on a scale of 1 to 5

Reduced gas

Rated 5.0 on a scale of 1 to 5

Rescue

Works fast, and I like that!

Reduced bloating

Rated 5.0 on a scale of 1 to 5

Made me feel better

Rated 5.0 on a scale of 1 to 5

Reduced gas

Rated 5.0 on a scale of 1 to 5

Great digestion reset

It seems like it reset something in my stomach. I can eat again with out indigestion.

Reduced bloating

Rated 5.0 on a scale of 1 to 5

Made me feel better

Rated 5.0 on a scale of 1 to 5

Reduced gas

Rated 5.0 on a scale of 1 to 5

Product Standouts

Reduced flatulence and gas,

Reduced bloating,

Improved overall gut health,

Easy to Use

GREAT PRODUCT!

Rescue performs as advertised. Reasonable cost.

Reduced bloating

Rated 5.0 on a scale of 1 to 5

Made me feel better

Rated 5.0 on a scale of 1 to 5

Reduced gas

Rated 5.0 on a scale of 1 to 5

Product Standouts

Reduced flatulence and gas,

Reduced bloating,

Value for Money,

Easy to Use,

Nice packaging

Rescue

I tried Rescue and was extremely pleased! I have tried many products for my bloating when eating certain foods that I love. Took 2 capsules and literally in ten minutes all my problems went away!! Excellent product

Reduced bloating

Rated 5.0 on a scale of 1 to 5

Made me feel better

Rated 5.0 on a scale of 1 to 5

Reduced gas

Rated 5.0 on a scale of 1 to 5
Reviews Loaded
Reviews Added